---
---
---
Jody signed to score Studiocanal's Cockneys vs Zombies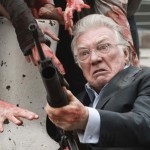 Jody is thrilled to be on board for this fun UK black comedy, directed by Mattias Hoene. Cockneys Vs Zombies is an action packed heist story set against the backdrop of a Zombie outbreak in East London.
Synopsis: Andy and Terry are two good-for-nothing Cockney chancers who try to save their ageing Grandfather's care home by robbing a bank. In the meantime, on an East London building site, a worker breaks open a tomb that dates back to the time of the Black Plague and unleashes a virus that turns everyone in East London into flesh eating zombies. Faced with hordes of undead Cockneys and the challenge of rescuing a care home full of tough-nut OAP's with wheelchairs and Zimmer frames, Andy and Terry learn that it takes more than a loud mouth and a sawn-off shotgun to be a true Cockney.
Jody plans to record the score at Angel Studios, Islington in January.
---
---
---
---
---
---
---